Tom Clark is a commercial photographer based in Miami offering professional services in portrait, product, interior, and architectural photography.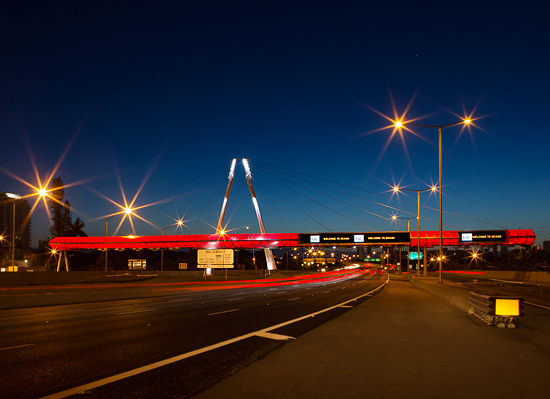 Welcome to Miami… now pay me.
If you have traveled to Miami via the international airport, then chances are you have driven under this automated toll collector.  Not only does it make our lives easier by eliminating the exchange of cash on the highway, but it also has pretty neon lights suitable for an introduction to the magic city.
Maybe you've seen the highway scene from Bowfinger, if not check it out for a sense of what it's like to shoot from the shoulder of a highway.  Wanting to make each shot your last is your natural defense system's way of keeping you alive.  But any photographer knows a few takes is better than one.
We did plan ahead for the sake of our own safety.  This gem of a shot was captured at dawn with minimal traffic (only the hospital workers en route for the start of the day shift) making our awkward presence slightly more acceptable than if we extended our stay into morning rush hour.