Lucy climbs in Red Rock Nevada:
Twenty minutes west of Las Vegas, the gentle eye in a category five hurricane of vice, sin, blue-men, and neon. The term "juxtaposition" gets thrown around rather liberally but Red Rock is a true juxtaposition. You have the fast paced, silicon lifestyle of Vegas and yet, in the horizon, rocks glisten with unfathomed potential.  
I find the phrase "the mountains are calling" to be disconcerting, but when viewing this photo, it's all I hear. Perfect rock in perfect conditions. Lucy climbs a forty foot boulder, "The Divide" in the Kraft boulder field. Though the rock stands tall with aplomb, Lucy uses technique to chimney up the divide.
We often forget how pivotal nature is to our creativity and ego. Cormac McCarthy, in his book "Blood Meridian, or the Evening Redness in the West" invokes mans interconnectedness to the rock:
"The very clarity of these articles belied their familiarity, for the eye predicates the whole on some feature or part and here was nothing more luminous than another and nothing more enshadowed and in the optical democracy of such landscapes all preference is made whimsical and a man and a rock become endowed with unguessed kinship."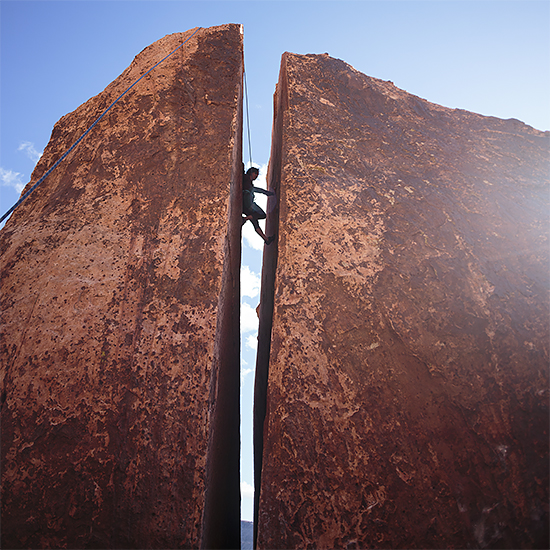 Grant Albert likes techno, rock climbing, and basset hounds. You can find more of his writings on noiseprn.
Tom Clark is a commercial photographer based in Miami offering portrait, product, architectural and interior photography services.