Miami gets a bad rap when it comes to public transportation. We find it unreliable and unavailable. While our transportation system can be lacking, you cannot deny variety is there.
Tom is a patient photographer. He hung around long enough to get this shot on a Wednesday afternoon, right before the madness that is rush hour.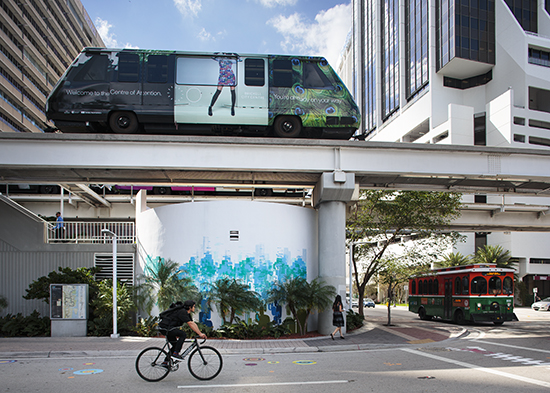 Above is the PeopleMover. A free metro that covers 4.5 miles and takes Kendallers, Brickellites, and Downtowners all around Downtown free of charge. Yes, they are still in use after Ultra Music Festival where ravers crowd the cab with neon and sweat.
To the right is the Miami Trolley. A bus painted in the University of Miami colors and takes travelers all throughout North Miami: Wynwood, the Stadium, and even Coconut Grove.
Below is the humble biker. Despite the odds that they could be hit by a car at any moment (wear a helmet,) they are brave enough to pedal the streets of Miami.
We are then stripped to our most primitive form, walking. Fortunately enough, Downtown is riddled with shops, business, and restaurants all within walking distance. When the clock turns 5 and all of Miami loses their minds to beat the rush, it's not a bad idea to take a breath and think of our options.
Grant Albert likes techno, rock climbing, and basset hounds. You can find more of his writings on noiseprn.
Tom Clark is one of the few commercial Miami photographers offering portrait, product, architectural and interior photography services.