Tom Clark is a commercial photographer available for food, product, architectural and interior photography in Miami and throughout the U.S.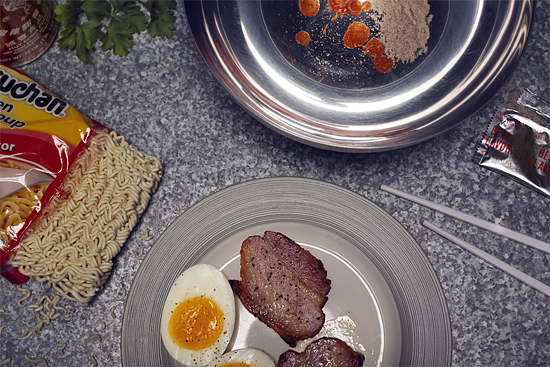 This one pays homage to photographers who are just starting their careers, or a typical Tuesday night at my place during the busy season. Just because you're eating ramen doesn't mean you have to suffer. Some salt pork, eggs and hot sauce can go a long way and will complete those ramen meals.
Also, I've been having some fun trying to make the perfect egg. I guess anyone can get lucky every now and again, but repeating your results with boiled eggs is a surprising challenge (especially working with basic appliances). I like a yolk that's on the runny side, but definitely need the whites to be firm. I'm not with the runny whites. Not enough time in the heat and you've got a mess on your hands… too much time in the heat and your yolks are dried.