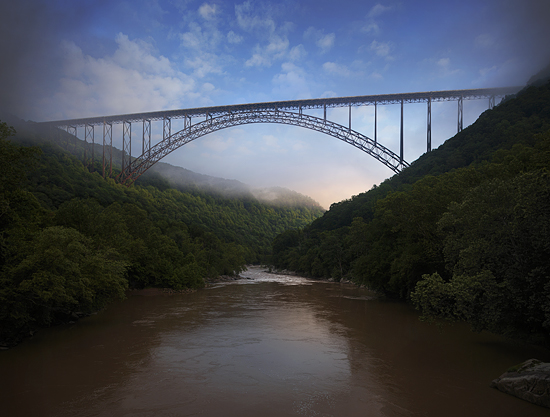 Photographers visiting Fayetteville, WV may experience an irresistible attraction to the New River Gorge Bridge. Every photographer knows it's been done before, still we can't help ourselves. This is one of the highest vehicular bridges in the world made of a humbling 88 million pounds of steel and cement.
On a recent climbing trip I took advantage of a rest day to find the ideal shot, which led me to Fayette Station Bridge (a nearby, smaller bridge with this unobstructed view). The next morning I woke and forced myself out of the tent before dawn. We made it to the location just as the fog was beginning to clear and the sun was rising. Luckily, the early morning effort was matched by nature's good graces and an image was captured. After all, it's a long drive from Miami and we lugged the camera gear all the way.
Tom Clark is a commercial photographer based in Miami available for assignments in South FL and throughout the U.S.